A Good Solution for Sink Cabinet Mayhem
Posted on November 1st, 2017 at 11:09 AM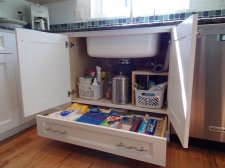 Organization and storage are important things to consider when planning a kitchen remodel, and there may be some options you haven't thought about.
One problem area is underneath the kitchen sink. Keeping dishwashing and other cleaning supplies under the kitchen sink is a pretty common practice. Organization of this space can sometimes get out of control as other things are shoved inside and the area becomes a dumping ground. This is a topic we typically bring up with clients when assessing their existing kitchen and the desire to create storage solutions. Most kitchen sink cabinets have a 6" decorative false-drawer in front of the sink. What would happen if you took the cabinet base frame and inverted it? You would end up with a six-inch working drawer at the bottom...gaining more storage space. The cabinet doors would instead be located above the drawer. In doing so, the cabinet space where your supplies are stored is now higher.
Normally, when you open the doors of your sink cabinet you have 6" of usable space between the bottom of the sink and the top of your cleaning products....so there is plenty of room to raise them up. Not only will you be gaining a drawer, but you are making the things in the cabinet easier to access. This same concept can be used with a vanity underneath the bathroom sink... making the drawer a great place for storing toiletries. Another tip for sink organization is to add a hidden towel bar in the cabinet so your dishtowels aren't hanging from the refrigerator, stove, or cabinet handles. By using a cabinet without a center stile (a strip of wood or metal that vertically divides a cabinet opening), or removing it, holes can be drilled inside the cabinet at each end and inserting a ½" piece of stainless steel rod.
This is just one solution to consider when changing a sink cabinet in any remodeling project.